Access the Learning Style Quiz
Enter your name and email to the right to access the quiz!
---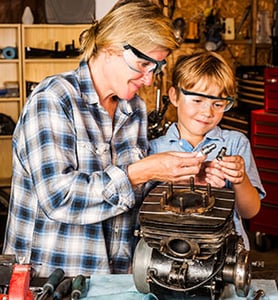 About the Learning Style Quiz
Why take this quiz?
This quiz will help you identify how you best absorb knowledge, and will provide tips on how you can use your individual learning style to succeed in the right education and career path for you!
What is a learning style?
Everyone has their own learning style. Some people learn better by watching a task performed, whereas others gain understanding by doing it themselves.
How long is the quiz?
The quiz is 20 multiple choice questions, and takes about five-minutes to complete.
What will the quiz tell me?
This easy multiple-choice quiz will tell you:
Your dominant learning style

Useful learning and studying tips/tools

Characteristics and habits of your learning style

How your strengths in learning could lead to a future career in the transportation industry
How will you use my information?
We will use your contact information to send you your quiz results, and to record how many people take the quiz. If you have questions you can find our privacy policy here>>
What are you waiting for? Discover your learning style now by filling out the form on the right to begin the quiz!