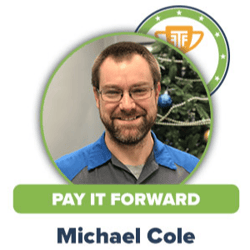 Congratulations to Michael Cole, winner of the people's choice for the national Techs Rock Award. Michael will enjoy a trip to Scottsdale, Arizona at the end of January to be recognized at TechForce's annual summit.
Why Michael was nominated:
"Mike is incredibly smart and passionate about teaching. He works with future techs from the local tech college by letting them shadow him in the shop, volunteers with Boy Scouts as both a board member and teacher and often spends time teaching them how to weld. He also helps the technical college build circuit boards for training. Mike teaches leadership to his Scouts as well as in the shop. He believes we are all students in the process of self improvement. He is very knowledgeable and is always willing to help other techs in the shop. He is patient and kind when helping others and never talks down to anyone."
Each of our 5 finalists deserve great respect and applause, as they won their respective categories and will each receive a $1,000 TechForce tool voucher from Snap-on®. Meet the finalists>>
On behalf of TechForce and these five outstanding technicians, thank you to all the friends, family, colleagues, alumnus and industry enthusiasts who cast votes and engaged in the Techs Rock Awards. Stay tuned for the FutureTechs Rock AwardsSM coming in February 2019 when we recognize up-and-coming tech students! Can't wait to celebrate tomorrow's workforce of technicians.
---
When tabulating the final votes, TechForce Foundation did remove votes for any individual clearly cast by automated, computer code designed to rapid-fire voting on a continuous basis. In the end, these eliminations had no effect on the final results.